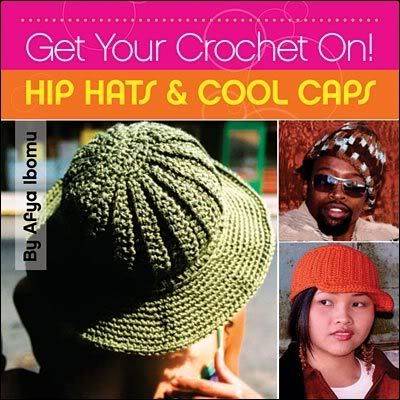 Title: Get Your Crochet On: Hip Hats & Cool Caps
Author: Afya Ibomu
Paperback: 128 pages
Publisher: Taunton (Nov 7, 2006)
ISBN-10: 1561588504
ISBN-13: 978-1561588503

Given my love of crocheting hats I knew I had to get this book when I saw it on the CraftSanity Blog here. I wasn't disappointed! It is appealing from the very start. Although a paperback, the paper weight is substantial. The cover is pre-folded 1/4" from the spine to help keep the book open without hands - a good design element for a pattern book. It is a colourful book with wonderful pictures and an easy to read style. The Getting Started section is targeted to the beginner. Afya has created the best set of crochet instructions I have seen. She has full colour pictures and diagrams to illustrate all the key points and step-by-step instructions. The diagrams are large and easy to understand. The "Making a Bib" (also called a bill) section is terrific; I haven't found this information elsewhere. Afya offers instructions for both a smaller or larger bib that can be added to many of her designs.

The 20 original designs are terrific. I think my favourites are The MC (Master of Ceremonies Rap Artist) a classic baseball cap, Queen (see picture), Kinky Reggae (this pattern is available for free on the CraftSanity Blog); Soon Come (similar to a newsboy-style cap), O.G. (Original gangsta) fedora type, Soldier (see picture), and Superfly. There are a few designs that are made to accommodate dreads. The patterns are clearly written. The only problem is that there are no measurements available for each finished project. The patterns either are for one-size or have small, medium and large adjustments.

All in all, this book is a very welcome addition to my crochet library. All my other crochet hat books have only caucasian models and many of the designs are downright hilarious. I think the beginner to the advanced crocheter would enjoy and use this book. Thank you Afya for publishing your work!