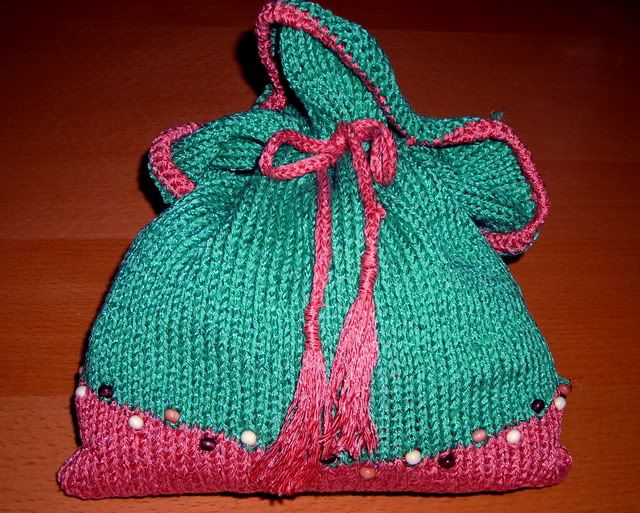 I made one too (large size).
It is fun to check out how others have made this project (Last Minute Knitted Gifts, p. 85). Mine is a little different as I didn't want to make it in a pastel colour. This is part of a birthday gift for a friend. She is not a girlie-girl and I thought an ultra femme pastel pouch would be a tad over the top for her. For me, my inner princess (known to very few) wouldn't mind a pastel pouch - in softest bamboo of course!
Unfortunately the colours are all wrong in this photo. I blame the flash. To see the true colours of the Estelle Mystik DK I have uploaded the swatches for you to check out below.
| | |
| --- | --- |
| | |
| Emerald Green 066 | Salmon - 005 |
Estelle Mystik DK
is 54% Egyptian Cotton and 46% Viscose. It has a lovely sheen and an elegant drape. In general it is a pleasure to knit with. Two things that made my work a little more challenging than usual: the slipperiness of the yarn, and how easily it separates into its separate threads. Still, the finished result is worth these minor irritations.
I found this project that is also made with Estelle Mystik DK. It is simply lovely. This
Sizzle
pattern (designed by Wendy Bernard at Knit and Tonic, and available
here
) is knit up by the extraordinarily talented
Felicia Lo
(she is modeling her work). I think she used Rich Wine 062 or Berry 050. Felicia's blog is called
Sweet Georgia
, and although she is taking a hiatus for 6 - 12 months, her blog is definitely worth a read!
Adding beads to knitting
How do you like the beads on this bag? It was fun and easy to do. There a few ways to add beads to a project - I followed the hooking as you go directions from the Knitty.com article: Seduced by Beads written by Sivia Harding. Sivia's diagram is found here. The trick is having a crochet hook small enough to fit through the bead! I used an antique hook that was passed down to me (previously used for making lace). I think it is about 1.5 mm in diameter. I took my stitches off of the knitting needle to place the bead. Sivia is right, once the bead is in place you will not lose / drop the stitch. After seating the bead I put the loop back on the left hand needle and knit as usual. My beads are 4mm and wooden (very inexpensive).